The National Library
The National Library
At the outbreak of the Second World War in 1939, Bernard Faÿ, then aged 45, rejoined the Red Cross. When the German occupation of France began shortly thereafter, the French population had little alternative but to endure the hostile foreign presence (Apart, of course, from self-imposed exile, an option chosen by the current director of the Bibliothèque Nationale along with a group of government deputies, who departed for North Africa aboard the passenger liner Massilia).
When the new prime minister of the Vichy government, Marshal Pétain, asked him to take up the post of general director of the National Library. *(cf: note of BF) Faÿ, the academic whose childhood illness had rendered him unfit for active duties, recognized that this would be the best way for him to serve and defend his country. He therefore accepted the appointment, all the while being aware of the pittfalls.
Certain of the more cultivated German officers in Paris declared from the outset their intention to remove the greatest treasures of the National Library and send them to Berlin and it took the subtle gamesmanship of a man such as Bernard Faÿ to dissuade them. Throughout the war he unflaggingly fulfilled the mission that had been entrusted to him : to vigorously defend his country's cultural heritage.
Taking advantage of his relationship with the Vichy government, Faÿ was able to provide the French Resistance with vital information, and integrated Resistance movement called Mithridate. At the moment of the Liberation, fearing the looting of the National Library, he stayed at his post. Not a single book, medal, print, nor manuscript was lost, unlike at the Louvre where many works of art disappeared during war.
Not only did Faÿ manage to preserve the entirety of the National Libray and the Mazarine Library's collections, he also found a way to hide the contents of many other public and private libraries in the provinces, among them those of the French Senate, the National Marine, the Ministry of War, the Geographical Society, Chartres, Lorient, and the families Montmerency-Luxembourg, Rotschild, Furstenberg, Foch, Poincaré, and more.
* (Notes of several pages written in prison by Bernard Faÿ)
.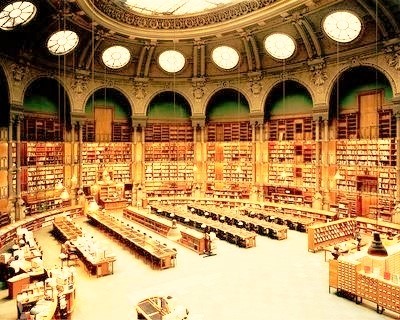 ________________________________________