Litary Life
Litary Life
His doctorate thesis on " The Revolutionary Spirit in France and America at the end of the 18th century " was published in French in 1924 by Edouard Champion, followed by an English translation published by Harcourt Brace. From that moment on, he published continually.
Bernard Faÿ was a prolific author. His portraits of individuals writers that appeared in " Les Nouvelles Littéraires " were then compiled into one volume under the title of " Panorama de la Littérature contemporaine " by Editions Kra/Le Sagittaire. The book was translated into English under the title " Since Victor Hugo " and published by Little Brown, Boston. Most-read works included " Benjamin Franklin Bourgeois d'Amérique " (Calman Lévy 1929 and Little Brown in Boston), " Georges Washington Gentilhomme " (Grasset 1931, Boston Houghton Mifflin), " Roosevelt et son Amérique " (Plon 1933, Boston Little Brown), " la Franc-Maçonnerie et la Révolution intellectuelle du 18ème siècle " (Cluny 1935, Boston Little Brown), " L'Homme mesure de l'Histoire " ( Labergerie 1939). He translate the " Autobiography of Alice Toklas " of American novelist Gertrude Stein (Gallimard1934). A journalist as well, Faÿ wrote for number of French and American newspapers such as Le Figaro, the Revue de Paris, le Correspondant, The New York Times, The Saturday Review, and others.
Durind the Spanish war, making a report, he met Marshal Pétain, when he was ambassador in Madrid.
At the age of 39, he became chairman of the departement of American Civilization at The French College. His courses met with great success since he was one of the most brilliant academics of his day. As a member of the Paris elite ( le tout-Paris ) between the wars, he kept company with artists, writers and musicians such as Raymond Radiguet, Erik Satie, Marc Allégret, Valéry Larbaud, Philippe Soupault, André Gide, Marcel Proust, Jean Cocteau, Tristan Tzara, Paul Morand, Eugène Chiriaeff, and many more as he later came recount in " Les Précieux " ( Librairie Académique Perrin 1967) *. His friend the sculptress, Antoinette Champetier de Ribes, was always close by. He shared the royalist point view of l'Action Française but never participated politically. When he was not traveling, he entertained artists, writers, journalists, and intellectuals from Europe and across the Atlantic at his home in rue Saint Guillaume.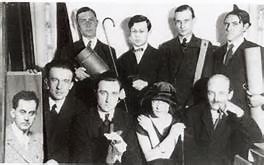 BF avec Tristan Tzara, Philippe Soupault, Man Ray, Paul Eluard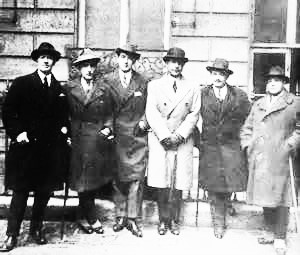 BF avec Paul Morand et Valéry Larbaud
_______________________________________________